Solar SEO Company
Increase profits for your solar business with professional SEO services
Get started
SEO Company for Incredible Results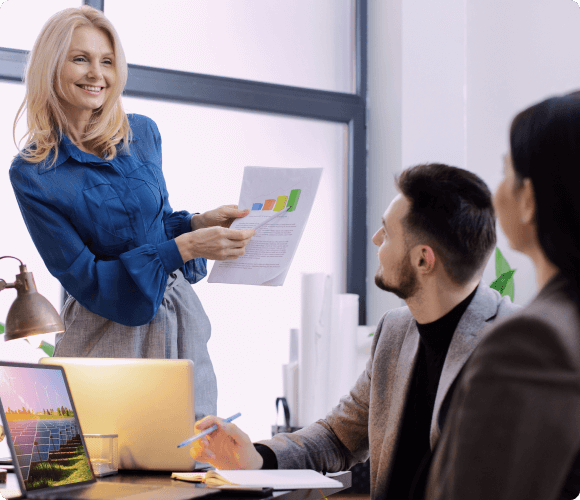 Are you a solar contractor trying to enhance your solar website to rank higher in Google search results? Solar companies should use an SEO expert who specializes in the solar industry to rank their website on the search engine results page. A qualified SEO expert should manage search engine optimization because it is a specialized trade. SEO.SOLAR Company is a solar SEO agency providing services to renewable energy companies.
Our SEO team has a wealth of expertise in assisting solar companies with increasing qualified website traffic and converting more visitors into leads and jobs. Our experts in SEO for solar companies employ geo-targeting tactics to ensure when someone in your neighborhood looks for solar panel installation or solar energy services, they find you.
Professional SEO
A data-driven approach to achieve real results
Professional Specialists
A team that understands each step to deliver results
Why is SEO important for Solar Companies?
Typically, organic searches are the primary source of website traffic, and solar SEO makes your brand more visible. Increased visibility and a good position on SERP translate to increased website traffic and more clients. The benefits of SEO for solar power companies include attracting more organic traffic meaning your costs do not go up when traffic increases, which is not the case for a PPC strategy.
An effective SEO strategy generates more qualified organic traffic and conversions because it provides searchers with the information and the solution they need. So, using solar installer SEO effectively helps increase conversion rates and margins. It generates more leads, which translates to more conversions and higher margins. For instance, increasing traffic from 10,000 to 50,000 visits per month means 800 additional sales if 2% of visitors convert.
Our Solar SEO Services
SEO
Our solar company SEO experts boost your ranking on Google and other search engines resulting in more leads for your business and higher revenues.
Keyword Research
We undertake pertinent keyword analysis and research to identify the keyword groups to rank for fast.
Competitor Analysis
We locate your immediate rivals and find areas where your website can perform better, boosting leads.
On page SEO
Our solar SEO experts optimize every aspect of your site to help with rankings and boost organic traffic.
Link Building
We customize plans for each client using our white-hat link-building strategies. Search engines interpret links as a sign of authority.
SEO Audit
We analyze how well your web presence relates to best practices to identify the issues affecting organic search performance.
Content Marketing
When it comes to search engine rankings, content marketing is pivotal because SEO and search engines revolve around it.
SEO Process
Niche Research
Our SEO for solar companies, or SEO for solar power companies, always begins with a niche and competitor analysis.
Strategy Development
After researching your niche, our SEO for solar company specialists then craft a strategy to achieve the set goals.
Data-Driven
We take a data-driven approach; thus, we produce detailed reports based on quantifiable results to document the work completed.
Getting Results
Results and scaling represent the last step in our procedure. We will demonstrate your solar SEO return on investment.
Clients Reviews
I have been using SEO.solar's SEO services with great success over the past year. I must say that they have an impressive track record when it comes to helping their clients improve their rankings on search engine pages. They are extremely knowledgeable and experienced in the field of SEO, and they have a keen understanding of today's search engine algorithms.
The team at SEO.SOLAR provided me with an extensive analysis of my website as well as recommendations on how to improve it to bring more traffic to my site. They also provided detailed instructions on how to optimize content for better rankings in search engine results pages (SERPs).
I recently had the opportunity to use SEO.SOLAR SEO services for a local solar company in my area, and I was extremely impressed with the results.
I recently worked with Seo.Solar SEO company and I can honestly say that they were a pleasure to work with. Their team of professionals was knowledgeable, helpful, and responsive – they always answered my questions in a timely manner and provided me with clear and concise advice.
Get started
Hire Solar SEO Agency to Dominate Your Industry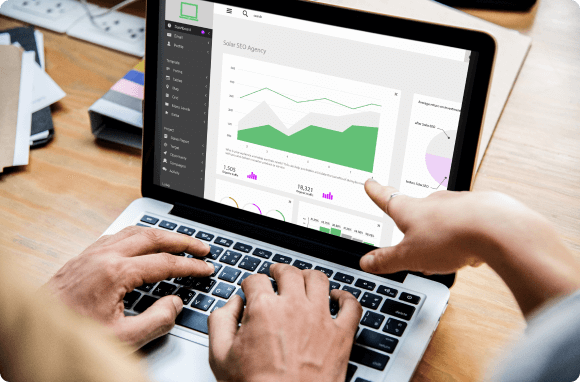 You need to have a strong authoritative website and do in-depth keyword research for your solar business if you want to advance in the search engine rankings and dominate the local and regional industry. A successful digital marketing service such as SEO.SOLAR Company can help you boost your online presence and increase organic traffic fast.
More traffic will turn into more leads and conversions, meaning higher sales and revenue. You do a fantastic job developing sustainable energy systems, and working with digital marketing specialists can help you dominate the solar sector.
Ready to Collaborate?
Get in Touch!
Fill out an request form to discuss SEO services for your website in detail
FAQs about SEO services
It may take five to eight months before the effects are realized. If you have not previously performed advertising and solar panel SEO marketing campaigns, the results could take longer. If you are in a competitive market, it can take 12 months or longer to get the desired ranking.
We recommend a minimum monthly investment of $3,000 when working with an agency providing the services of SEO for solar companies, including $1,500 for link building and an additional $1,500 for work. For a precise estimate tailored to your unique requirements, speak with an SEO for solar professional since costs are subject to change.
Local search engine optimization enhances local business visibility on search engines, particularly for those with a physical presence. A local solar business can increase organic search traffic from customers in the neighborhood by adhering to local SEO best practices.
Monthly SEO services, also known as recurring monthly SEO services, aim to raise your rankings in search results on a month-to-month basis. Most monthly SEO services include on-page and off-page improvements, such as keyword research, content creation, link building, etc.
It's impossible to guarantee keyword rankings. Even if the company has a stellar reputation for providing high-quality SEO services, the reality is that Google is the one in total control. Any reputable agency that offers solar SEO services for solar companies should be aware of this.